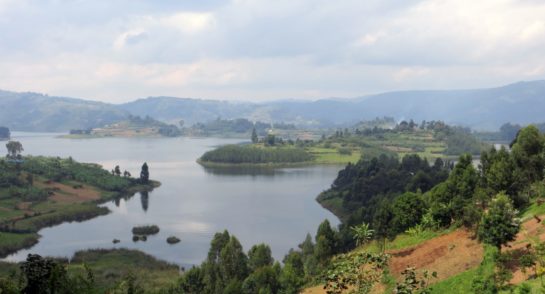 Spend the day at the "Place of many little birds".
One of our amazing partners in south western Uganda is passionate about kayaks!
We have a day on Lake Mutanda with the experienced Kigezi crew planned for you.
Alternatively, you can travel to Lake Bunyonyi, which is in south-western Uganda between Kisoro and Kabale, close to the border with Rwanda.
The lake appears on the 5,000 Ugandan shilling note under the title "Lake Bunyonyi and terraces". Towns on its shores include Kyevu and Muko, while its 29 islands include Punishment Island and Bushara Island.
This picturesque lake is approximately 2.5 hours on a motorbike away from Karungi Camp. You can a spend relaxing weekend here for approximately $100-$150, not much needs to be arranged in advance.
Our favourite place to stay is a rustic lodge called Byoona Amagara located on one of the 27 islands on the lake. There is also upmarket accommodations available for $180 per night, increasing your costs somewhat!
This is a great place to retreat to by yourself or hang out with your fellow travelers.
Lake Mutanda is a small freshwater lake in Uganda.
A scenic 3 hour hike from us will give you a relaxing afternoon by a lake while being overlooked by a majestic volcano!
Big Beyond volunteers can stay at this lodge for approx $100USD per night. This does not need to be arranged in advance, and can be a spur of the moment weekend activity.