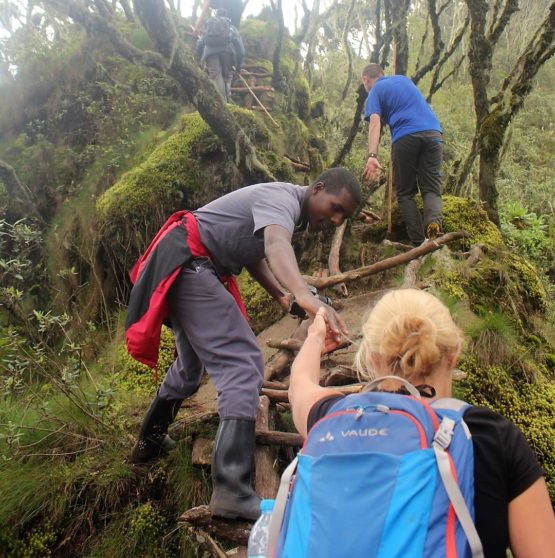 Our local community guides can connect you with a number of authentic local experiences.
Our community guides have been fully trained, speak excellent english, were born and bred in the local community, and share a real passion for the local way of life, culture, and traditions.
In order to make the local people more accessible to visitors, our excursions are tailored to small groups. All activities and local experiences directly support the local community.
WHAT OTHERS HAVE EXPERIENCED
Stories from our visitors
It was one of the best decisions to select KarungiCamp for our Ugandan wildlife holiday. Yolande and Gordon have been very communicative and responsive in helping us plan and execute our dream wildlife experience. A few highlights -
- The whole karungi team is very helpful and polite , we had a warm welcome with freshly squeezed juice and comfortable stay at the site.
- Accommodation is basic but clean, hygienic and safe, very pretty and rustic, with bestest hot shower, amazingly fresh local food and fully stocked bar. They have rustic wooden log sofas in the outdoors on which you can lounge around. The best part is the premises - green and peaceful, they also light a heartwarming fire in the fireplace, when it gets cold
- Gordon, the manager went out of his way to make us feel at home, he personally accompanied us through our trip, acting as driver and recommending and arranging local experiences, from the Gorilla trekking to safaris in QENP, to accompanying us for the chimp experience ! He has great contacts and team and is your go-to person to experience Uganda up,close and personal.
Most importantly, the team went above and beyond their actual jobs (it is a resort and not a tour agency), by helping us plan and execute our itinerary. We kept asking them loads of questions, and they patiently guided us with their local expertise right from itinerary planning to local suggestions. This was important since not much information was available online.
It would be a mistake not to book them and experience the warm and expert hospitality @ Karungi Camp ! Must-book if you are planning to visit Uganda !

We stayed at Karungi camp for our gorilla track in Bwindi. The location is great, just a 20 min drive to the entry gate, the rooms are super clean and spacious and the food is good. But that was not what made our stay so amazing. It was the people. Every night they would light the fire at the restaurant and sit with you and take time to listen to your stories. The staff was so interested to hear about our day. But what I loved most, was the passion and love they had for their community. One night we stayed up with Gordon, talking about the people living there and mentioned that we would love to do something. He asked what we wanted to do, without any pressure whatsoever, and arranged for us to buy some food for a few families that had it rough. He went out of his way and made time in his day to take us to these families. A true gem. Also, Aicha. The girl that would come running in the pouring rain with umbrella's just so that we could go to the room dry. The girl that noticed our dirty hiking boots and took the time to clean them, without asking. They looked brand new! The people that work at Karungi camp are one of the sweetest souls I have ever come across. They are worth the stay 100%. And then of course also the location, food and rooms 🙂

Firstly I would love to thank Gordon our point of contact for his impeccable consideration to our comfort and satisfaction. Gordon is kind, helpful, hard working and considerate. Without him we'd have had a very different experience in Bwindi. Now to the camp itself - Virtually a little pocket of forest paradise. Comfortable, affordable and in a stunning location. The staff are welcoming, warm and attentive. A huge bonus here is the food from Chef Daniel. My friend and I are both experienced chefs and the food cooked at this camp far exceeded the standards at other camps that we have experienced throughout Africa, whilst on tours of similar nature. So we give a fitting 5 stars for this establishment and once again thank you to all for being a part of an unforgettable journey for Jesse and I.

Our stay here definitely was one of the best experiences we had in Uganda! The food was delicious, the rooms very clean and big, the shower was hot and the staff amazing. They helped us in every way possible: when I felt sick, they prepared some ginger tee for me, when we wanted to plan activities they quickly managed to find a very friendly and knowledgeable guide for us, they connected us to local artists that presented and sold their craft, and they led us to the tailor, who made some beautiful dresses for me. Even a comfortable ride to the next accommodation was organized on very short notice. We enjoyed our stay very much, felt welcome and would definitely come back.

Karungi is a really great spot in a small village town. The owners and staff were incredibly helpful before, during and after our trip to Karungi/Bwindi national park. Gordy helped us secure permits to trek with gorillas and we never had to bat an eye. Also, their hot showers are sooo nice after a day of hiking!

Stayed here for gorilla tracking based on the description of how well integrated this camp is with the local community and it was as advertised. Very comfortable stay with nice room, good food, and great company around the fire at night. For the adventurous, this place is well worth the visit, even if you are not seeing the gorillas.