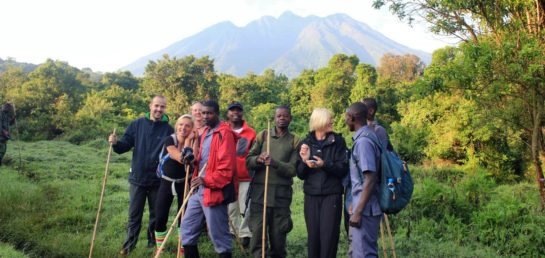 Nestled deep in Bwindi's southern sector is an untouched part of the world simply waiting to be discovered.
The never ending series of rolling hills and valleys forming part of Africa's great rift abound and are the source of unparalleled scenery.
Hikes of any difficulty and length abound and will produce amazing photographic opportunities – let our experienced guides show you the sights and sounds of Bwindi.
Rubuguri Origins & Honey Trail Route
Enjoy an adventure in the Rubuguri hills to the south of Bwindi Impenetrable National Park.
You will learn about the origin and everyday life of the peoples of Rubuguri, take in a market, a honey apiary, agricultural activities, visit the local wetlands and view the host of birds that live there.
The trail starts in Rubuguri Town at the Market Place and ends in town at the Bwindi Honey Shop.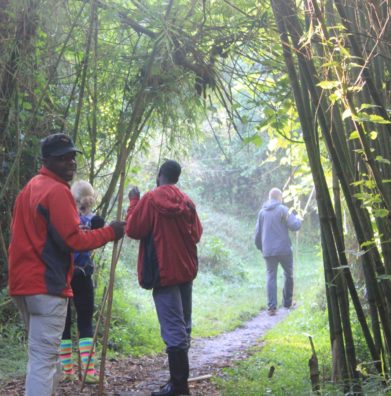 On this trail you will enjoy beautiful nature and learn about local history and culture.
You will see a variety of birds, visit small caves and go to a waterfall.
There is also an option to visit a local homestead on the way back.
Reformed Poachers Trail Route
Trek the Rubuguri hills south of Bwindi National Park.
You will learn about locals, and those who used to poach in the forest and are now producing fruit and vegetables as an alternative, legal, livelihood.
The trail starts and ends at the Bwindi Honey Shop in Rubuguri town.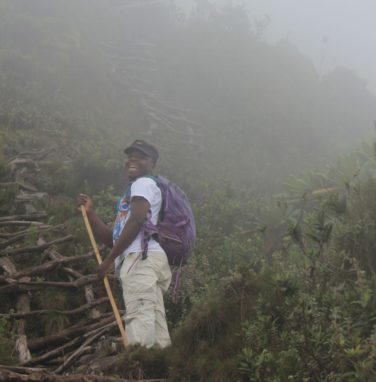 Traditional Rural Life & Batwa Tourist Trail Route
If you are in Buhoma, why not extend your stay and enjoy a trek where you can experience natural, cultural, and everyday treasures outside of Bwindi Forest.
Or stay even longer and spend time by the river for a long, relaxed picnic.
You might even want to bring your swimming kit for a dip in the cool clear water.
The trail starts and ends by the main gate into the Park, meaning you can also browse the local shops once you have completed the trail.
Nature Valley Walk with local lunch
Join us on this scenic walk through a glacial valley on the edge of the buffer zone of Bwindi Impenetrable National Park.
This hike takes in many indigenous trees, birds, and if you are very lucky, you may catch a glimpse of endangered mountain gorillas that have strayed from the forest in search of food.
Then visit a local homestead and join the family for lunch.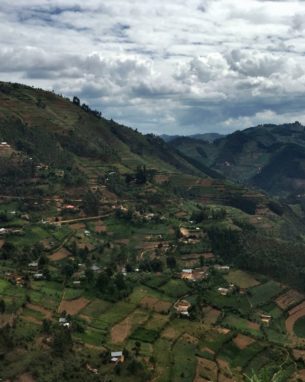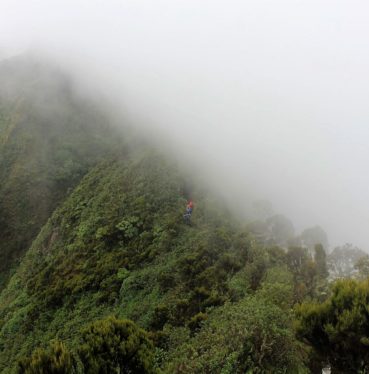 After a difficult, steep intense climb you will be rewarded with panoramic views of Bwindi and beyond.
On a clear day you will be able to see as far as the Congo and Rwanda!
Look out for monkeys and birds along the way.
Take in panoramic views of Bwindi and Rubuguri on this pleasant ridge walk.
You will get an insight into local culture and traditions and learn about the Batwa tribe whilst enjoying beautiful scenery.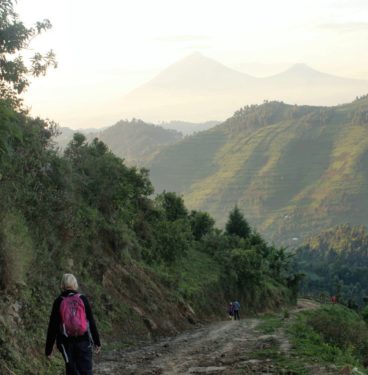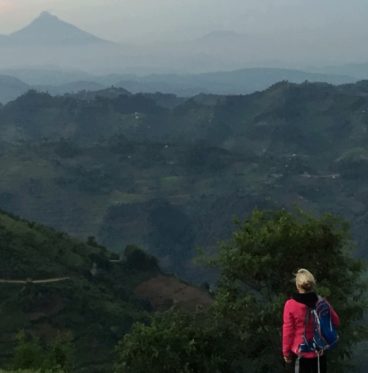 On this trek, you will take the road through Nyabaremura up to Niguru, and then across through Kara and down into the camp.